Here you'll find everything you need to know to make your experience in November in New York unforgettable.
November is an ideal month to travel to New York. The city parks have taken on the brown, ochre and orange colours that Autumn brings, you can already smell the atmosphere of Christmas and although the temperatures are low, it's not as cold as in winter.
Index
What to see and do in New York in November 2021
Weather in New York in November 2021
The weather in the month of November in New York is cold but not as cold as the icy temperatures of winter. The average temperatures are between 5 and 12º C, although at the end of the month they may be much lower. There isn't much snowfall in November, although as December approaches, there is a good chance that it will make an appearance. Rain is common in the Big Apple at any time of the year but why don't you see for yourself? What better way than coming with us, from November 1st to 8th and exploring the Big Apple from top to bottom.
If you think November would be a bit on the cold side for you, you might prefer the weather in New York in spring 2021 or New York in the summer of 2021.
What clothes to take to New York in November 2021
Although it's still autumn, winter is on its way and as we have already mentioned, temperatures aren't freezing but they are cold, and more so as the month progresses. Here are our recommendations for packing:
Thermal underwear, (you'll very probably need it at some stage)

Long and short-sleeved vests and jumpers. If you wear shirts, opt for warm winter ones, maybe a wool mix or similar.

A good waterproof coat or jacket and if you really feel the cold, make sure it's windproof too.

Enclosed comfortable waterproof shoes. Ideally, take two pairs, at least one of them warm and waterproof, so you can alternate according to the temperature and have appropriate footwear if it is very cold and/or wet..

Warm trousers. Cords are always a good bet but if you prefer jeans you'll most likely need your thermals too to keep out the cold.

Thick socks.

Hat, scarf and gloves.

Sun cream even in winter.

Sunglasses.
The best way to dress is in layers so you can put on or take off clothes as you need them.This applies especially when you are in any closed places like a museum or the metro where there may or may not be heating or air conditioning.
We are confident in making these recommendations because our guides travel with all the groups, giving them first-hand experience of what is really needed and used during the month of November in New York.
What to see and do in New York in November 2021
In November there are plenty of things to see and do including some of America's most well-loved and traditional celebrations.
Look at everything we can do this November in New York!
The New York Marathon
The New York Marathon has been held on the first Sunday in November since 1970. It is one of the biggest sporting events in the city and is recognised as one of the most important marathons in the world, along with London, Chicago, Boston, Berlin and Tokyo.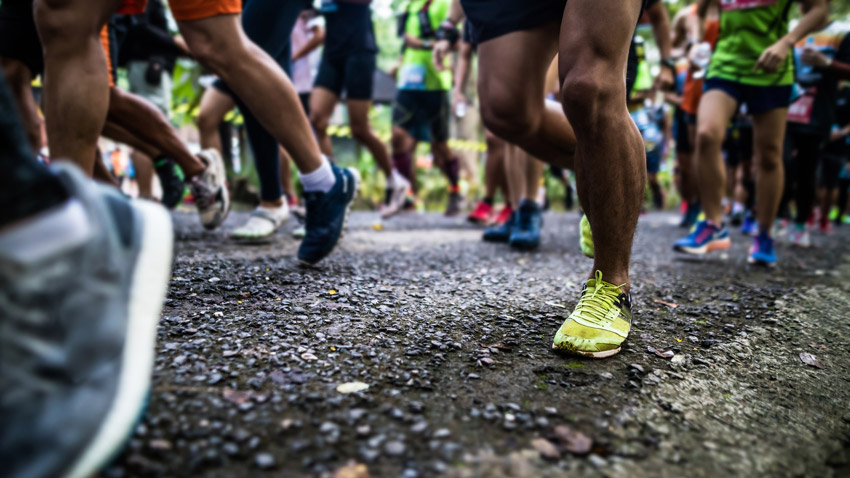 The first edition of this race was held on a circuit set up on Park Drive in Central Park, with 127 participants and followed by about a hundred spectators. Today, more than 50,000 runners participate in the New York Marathon attracting more than 2 million spectators cheering them on all along the route.
In 1976, given the growing number of participants, it was decided to reorganise the course of the race, so that it would cross the five districts of New York starting with Staten Island, then Brooklyn, Queens, Manhattan and Bronx, returning to Manhattan along Fifth Avenue finishing in Central Park.
Going to an ice hockey game in New York
From October to April, the American Ice Hockey League (NHL) takes place. The local teams are the New York Rangers and the New York Islanders. In addition to being considered the best ice hockey league in the world, it is one of the four major sporting leagues in the United States.The other three are the NBA, the NFL and the MLB.
Rangers play at Madison Square Garden in Manhattan, as do the basketball Knicks. In turn, the Islanders compete at the Barclays Center in Brooklyn, the same as the Nets in the NBA. However, the Islanders are building a new pavilion, the Belmont Park Arena, in the Queens district. They are expected to transfer there for the 2021–22 season.
Tickets are more expensive to see Rangers as they are a longer standing team, and range from $100 to $200. Islanders tickets can be obtained from $60 to $100.
Watch a Football Game (NFL)
In November, the NFL (National Football League) is in full swing. Although New York has two teams in the league, the New York Giants and the New York Jets, the matches are played in neighbouring East Rutherford, New Jersey at the MetLife Stadium, about 40 minutes away from Times Square by public transport. Although the tickets aren't on sale yet, the cheapest tickets last season cost about $130.
Want to watch an NFL game in New York this November? Our guide will give you all the information and details to make the most of this opportunity.
Ice skating at Rockefeller Center
The Ice Rink at Rockefeller Center is the first to open and the last to close.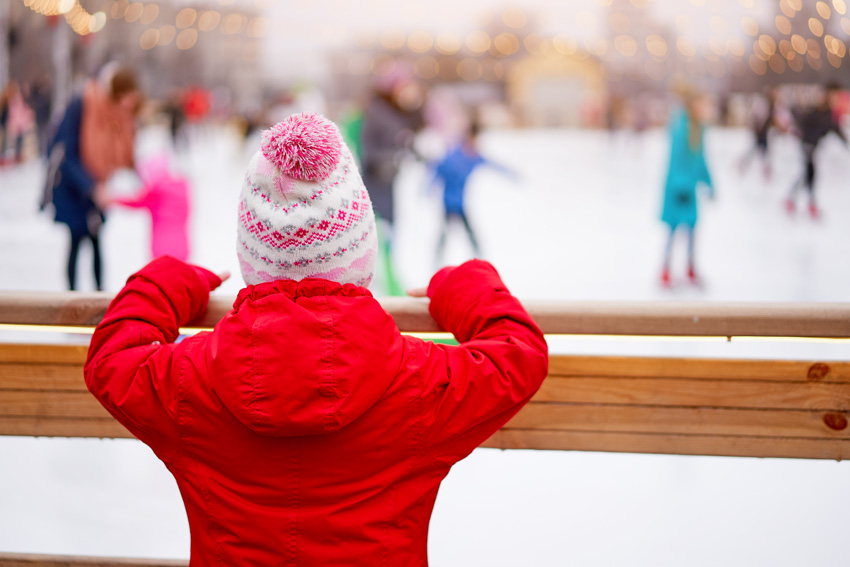 Who hasn't imagined themselves ice skating in central Manhattan? Well, if you're one of them, don't hesitate and come with us to New York next November. Last year's admission fee was $25 and $13 for skate rental. At holiday times the price increases to $28 and at high season to $33.
The Rockettes Radio City Christmas Spectacular
The Rockettes are a precision dance company that performs at the Radio City Music Hall in New York. The company, founded in 1925, in addition to its hypnotising choreographies, is characterised at the end of each presentation by a distinctive high kick to the beat at head height. The synchronization of the show entails all the dancers having to comply with height specifications, so to be part of the cast they have to be between 1.67m and 1.77m tall.
One of their most acclaimed performances is the one they have performed at Christmas, seven days a week for almost a century, the Radio City Christmas Spectacular. It has some of the highest viewing figures for a musical show in the United States. They also perform annually at Macy's Thanksgiving Parade and at the Christmas Tree lighting ceremony.
Their Christmas show is usually on stage from the beginning of November until the beginning of the following year. Should we go to see it? The Radio City Christmas Spectacular is a musical show that has become a Christmas tradition, with five performances a day, seven days a week since 1933. Another group of Rockettes take a Christmas tour taking the show to various theatres across the country.
Radio City Music Hall is also a show in itself. Located in Rockefeller Center, it is considered to be the most important theatre in the entire country. Opened in 1932, it reflects all the splendour of the art deco era.
Tickets to see the Radio City Christmas Spectacular are between $84 and $369, depending on the seating selection.
Veterans Day in New York 2021
Veterans Day is celebrated every year on November 11th to pay homage to the members of the military who have served in the armed forces. It was formerly known as Armistice Day, commemorating the end of World War I and those who fought in it. Veterans of World War II and the Korean War were later included. On November 11, 1954, the first Veterans Day was held dedicated to all armed forces veterans regardless of where and when they fought.
In New York there are several events on the day, one of the highlights being a floral offering attended only by the authorities, and another the National Veterans Day Parade, renamed America's Parade, which starts at 11 o'clock in the morning and passes along Fifth Avenue. Close to 25,000 people comprising war veterans, family members and bands participate in the parade.
If you are keen on war history this day can be the perfect opportunity to visit the Intrepid Museum, where you will find fighter jets, submarines and even the first space shuttle. In addition to aeroplanes, it also has three simulators with different experiences, including experiencing what it's like to fly a two-seater plane. The Intrepid Museum is housed in an aircraft carrier, the USS Intrepid, which was active in the Pacific during World War II and also played an important role in the Vietnam War.
Christmas Markets in New York
The Christmas spirit arrives in New York as soon as the adornments of Halloween start disappearing. The street markets are set up in several city parks November in New York where you can find handcrafted products, clothing, Christmas decorations and numerous food stalls.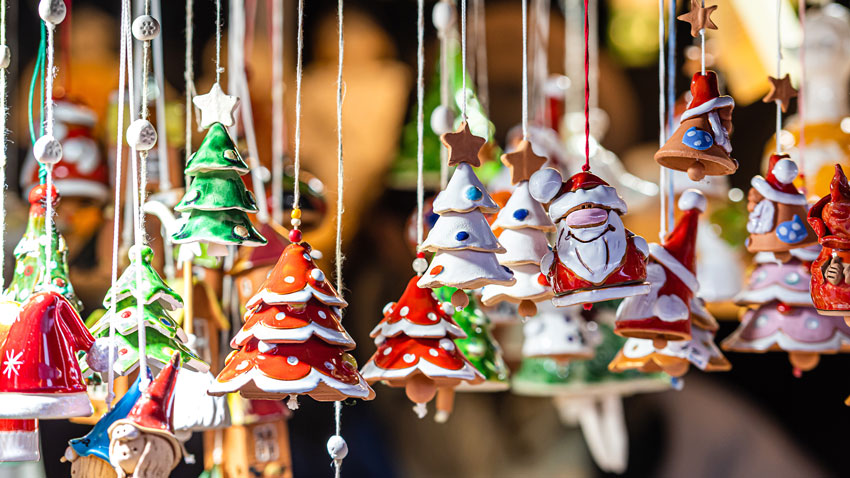 If you come with us to New York at this time of the year it's something not to be missed, would you like to know which ones we can visit?
Winter Village Bryant Park (from October the 27th to January the 2nd 2021)
Bryant Park is located next to the National Library, between Fifth and Sixth Avenue. It is surrounded by skyscrapers and has tables and chairs in the outdoor area where we can sit and eat just like the locals.
From the end of October one of New York's most famous Christmas markets, the Winter Village, is set up. You can visit it from Monday to Friday from 11am to 8pm and at weekends from 10am to 8pm .
It takes up much of Bryant Park and in it we can find the most original Christmas gifts like jewelry, pictures, clothes and Christmas decorations. In addition there are lots of little food stands offering food and hot cider to keep out the cold. The ambiance in Bryant Park at this time of the year couldn't be more picturesque: the little stands, the carousel, the food stalls, the Christmas tree... and Bryant Park's The Rink, one of New York's most beautiful ice rinks and also the only free one. Are you sure Santa doesn't live here?
Grand Central Holiday Fair (from November 18th to December 24th)
New York Central Station, located on 42nd Street, was built in 1913 and is one of the architectural delights of the city. Its facade, the main concourse dome and the whispering gallery are some of the treasures inside.
When the chill of autumn begins to take a hold, Grand Central offers shelter inside, specifically at Vanderbilt Hall (formerly the main waiting room) housing the Holiday Fair, a Christmas craft fair we can visit from Monday to Friday from 10am to 8pm, on Saturdays from 10am to 7pm and on Sundays from 11am to 6pm. It closes on Thanksgiving Day.
It has about 40 local craft shops, is smaller than the rest of the flea markets, but everything it offers (accessories, clothes, toys and Christmas decorations) is handmade. In addition to being in a fabulous location, it has the added attraction of being one of the few indoor Christmas markets, perfect to visit on the really cold days.
Union Square Holiday Market (from November 26th to December 24th)
The historic Union Square (designed by Bartholdi, the sculptor of the Statue of Liberty) is the location for the Greenmarket, a market offering seasonal local produce - vegetables, fruit, jams, honey, all made or gathered in the area. The market takes place on Mondays, Wednesdays, Fridays and Saturdays from 8am to 6pm throughout the year.
Every year, from Thanksgiving to Christmas Eve, it also hosts one of New York's most visited Christmas markets. In it you can find local crafts, seasonal sweets and cakes and themed New York Christmas decorations in its more than 100 stalls, as well as live music and craft workshops for children.
The Holiday Market is located at 14th Street and is open from Monday to Friday from 11am to 8pm, Saturday from 10am to 8pm and Sunday from 11am to 7pm.
Thanksgiving
One of the most popular celebrations in the United States is undoubtedly Thanksgiving. It is celebrated every year on the last Thursday of November, and although its origin is not clear (there are several hypotheses and theories about it) it is a non-religious holiday and its fundamental principle lies in the reflection and appreciation for all the good things that people have in their lives.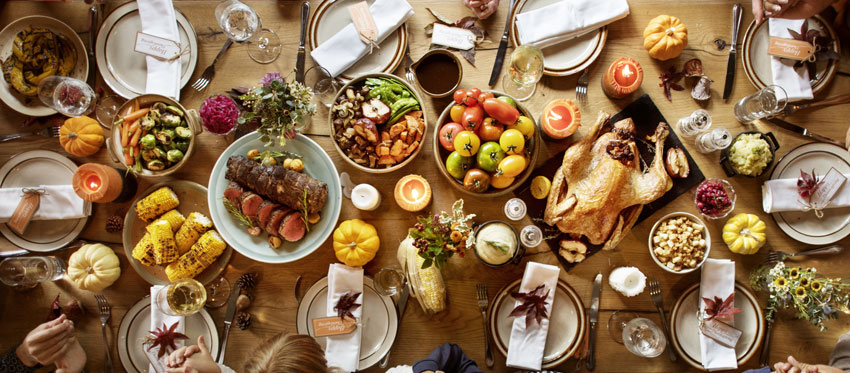 If you're in New York on Thanksgiving there are several fun and unusual things to do and places to visit. Here are a few of them.
Macy's Parade Preparations. On Thanksgiving Eve you can wonder at the how the huge balloons are inflated, it is done at the door of the Natural History Museum between 3pm and 10pm. It's an act open to the public and it's really spectacular to see the huge Spongebob, Snoopy or Pikachu balloons.Some measure up to 18 meters!
Go to Macy's Parade: A procession that has taken place in New York since 1924. It is one of the largest parades of the Big Apple, in which more than 10,000 people participate and in which you can see musical performances, theatre, cheerleaders, jugglers, acrobats, bands and the famous giant helium balloons. The parade begins at 9am on the Upper West Side, between 77th Street and Central Park West, bordering the park and continuing along Sixth Avenue ending in Herald Square at Macy's main store. You can watch the parade from anywhere on this tour, but it's up to you to get up early to get a good place.
Take part in The Turkey Trot: 5-kilometre races that became another Thanksgiving tradition a few years ago. Participants dress up in turkey costumes, settlers... If you fancy running it you can put your name down for the Turkey Trot of Prospect Park that is celebrated on Thanksgiving day. Before that an earlier one takes place on Coney Island and also there is a later one on Roosevelt Island.
Thanksgiving Dinner. It is a very significant day for all Americans as it is one of the few days of the year that the whole family can get together. It's a national bank holiday and people usually ask for the Friday off from work making it a long weekend.The most traditional meal is roast turkey, which can be stuffed or garnished, cranberry sauce, green beans and mashed potatoes followed by a good helping of pumpkin or apple pie. New Yorkers usually dine at home with the family, but there are plenty of places that offer a special Thanksgiving Menu, which includes the traditional turkey.
Get to know the city. Of course on that day you can continue to visit the Big Apple, but some places like the museums will be closed for the Bank Holiday. Other attractions such as the One World Observatory or the Statue of Liberty continue to operate normally.
Do you want to experience this festivity in the Big Apple? We'll take you and our guide will always be available to make your trip to New York with a guide exceptional. Just get together a group of 4 people and tell us your best dates for the trip.
Black Friday
Black Friday today is a global phenomenon that kicks off Christmas shopping and is celebrated on the last Friday of November. The day after Thanksgiving, shopping centres and smaller shops offer significant discounts on their products and although some of them maintain the offers for several days, many of those great deals can be found only on Black Friday.
Where are we going to shop these bargains? We can walk around New York and find countless small shops that will definitely have some good discounts. Soho is very lively, a neighbourhood full of cafes, some with tables outside, art galleries, and shops: here we can find from Zara and Mango to Prada, to suit everyone's pocket. However, there are three essential basics of New York department stores with solera.
Macy's: It is one of the oldest and most legendary department stores in New York, it opens on Thanksgiving Day from 17:00 and in addition to the sales there are special discounts for tourists. Here we can find clothes, perfumery, home accessories and lots more.
Bloomingdale's: Another New York department store, does that ring a bell? It may do as Rachel Green from "Friends" worked here as a shop assistant. As at Macy's, we can find clothes, shoes and accessories.
JCPenney: Cosmetics, clothing, technology... impossible not to find what you want in these stores.
If you are in New York on Black Friday and want to enjoy the discounts as one more New Yorker, we recommend you wear comfortable shoes and have large doses of patience, since the queues to find the offers you are after and to pay for them are miles long.
And, of course, the year-round activities from Take me to New York
Our guided trips to New York involve a number of not-to-be-missed activities during your visit. The admission price of tickets to the activities is indicated on each of them but if it isn't, it means admission is free.
Remember that on our trips you will be accompanied at all times by our bilingual guides, with which you will meet at the same airport, before taking the flight to New York.
I'd love to travel with you to New York in November, but I need more information
We give you 7 reasons to trust us and solve your most frequent doubts. In addition, we explain in detail what the price of the trip includes and what your trip will be like with us.
You're still not quite decided. Would you like to talk to us? We will be happy to help via any of the following:-