We give you lots of suggestions to savour spring in New York
Spring in New York blooms with a staggering number of events and activities. Parades, concerts, markets, exhibitions and various commemorations make the Big Apple a hub of things to do and see. Jot down everything you want to do so you don't miss out on anything!
Spring 2022 weather in New York
The weather in spring in New York is is fairly similar to what we are used to in the UK. The average temperature from March to May ranges from a minimum of 1.8º C to a maximum of 21.6º C. In addition, there are more than 10 rainy days per month and even in March we can still encounter some snowfall.
What clothes to wear in spring 2022 in New York
New York in the spring is quite cool. Temperatures are very variable and there can be some very cold days in March and almost summer days in May. With this in mind, we recommend that you take the following:
Thermal underwear for cold days.
Short and long sleeved vests, sweaters.
Warm trousers. Corduroys are a safe bet but if you prefer jeans you'll be glad of your thermals.
A coat warm enough to keep out the cold and preferably waterproof.
Warm waterproof sturdy shoes for cold and/or wet weather and a lighter pair for when the weather is warmer.
Winter and summer socks.
Waterproof
The best way to dress for this sort of climate is in layers. If you carry a backpack you can put in and take out clothes as you need them including when you are in any closed or indoor places like a museum or the metro where there may or may not be heating or air conditioning.
We are confident in our recommendations and suggestions because our guides travel with all the groups giving them firsthand experience of what is needed during the spring in New York.
What to see and do in spring 2022 in New York
As spring progresses, temperatures are getting warmer and there start to be lots of activities and things to do and see. Everyone wants to enjoy the events, parades and markets offered to us throughout the city during the spring in New York. So have a good look at everything we've selected for you and make a note of the things you don't want to miss.
Ice skating
During the spring in New York you can still go ice skating. The Bryant Park rink closes in early March, but the Rockefeller rink is open until April. Who hasn't dreamed of ice skating in downtown Manhattan? We would like to point out that the Bryant Park rink is the only free one in the city.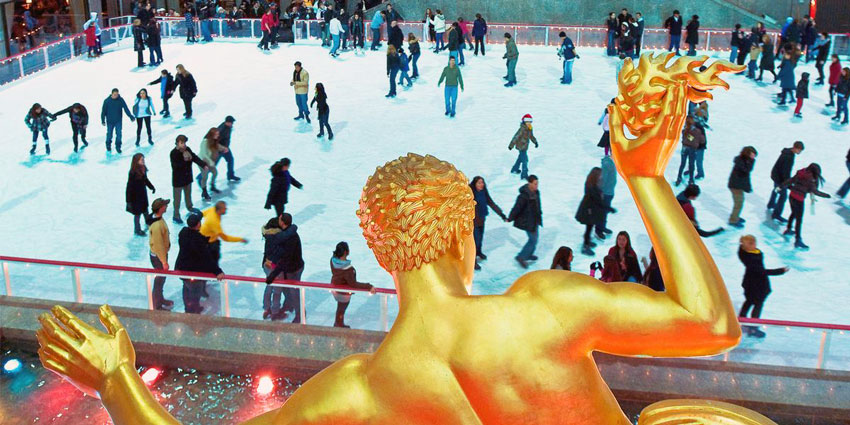 Food and antique markets
With the arrival of good weather, from April to October, two markets are open in Brooklyn and have become very famous in recent New York history.
Smorgasburg Flea Market is a mainly food market. On Saturdays it is held in the East River State Park in the Williamsburg neighbourhood, where there are over 100 different food stalls to choose from. The food is very varied, from the classic burger with chips to Indian or Brazilian food. It is also held on Sundays, but with fewer stalls and fewer people, in Prospect Park.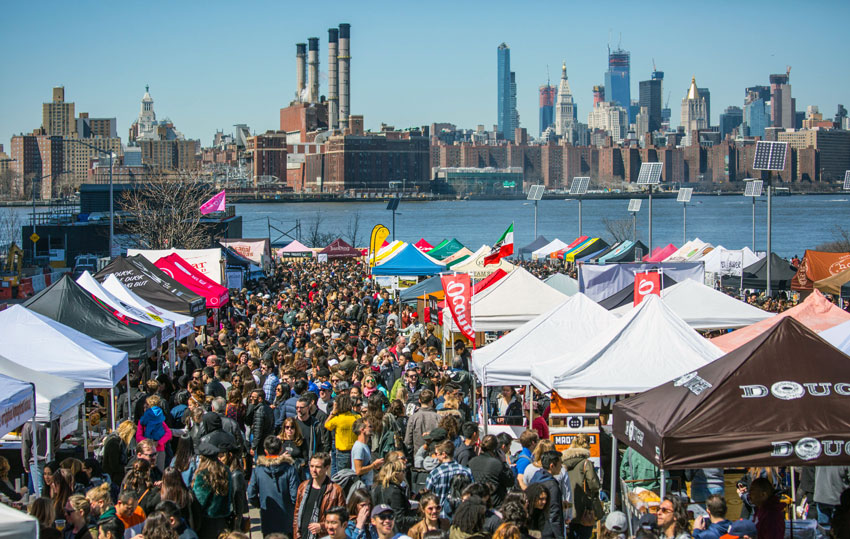 There is also the Brooklyn Flea market, focusing on the sale of furniture, vintage clothing, collectibles and antiques. On Saturdays it is held next to the Smorgasburg at East River State Park and on Sundays it moves to the DUMBO neighbourhood.
The Orchid Show
Every spring in New York,the New York Botanical Garden hosts an orchid show that is a burst of colour and a unique visual experience.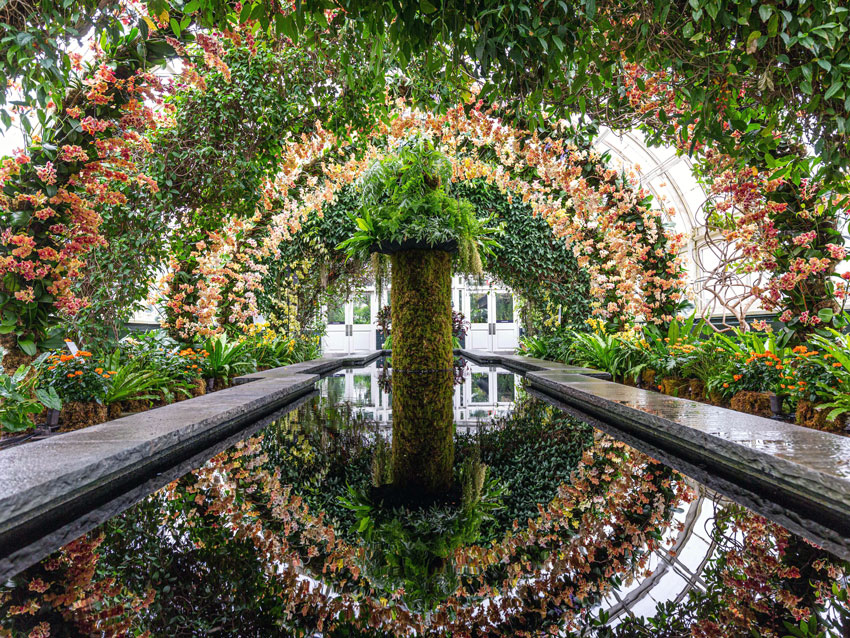 St. Patrick's Parade
Every March 17th the Irish celebrate their patron's day and the rest of the inhabitants of the planet join them. In New York on that same day, unless it falls on a Sunday in which case it's moved to the Saturday, a huge parade takes place. Not for nothing is it one of the most long standing celebrations in the city, starting in 1762. The festivities go far beyond the parade - everything in the city is coloured green, clothes, buildings and even food and drink and the street parties last until long after the parade has finished.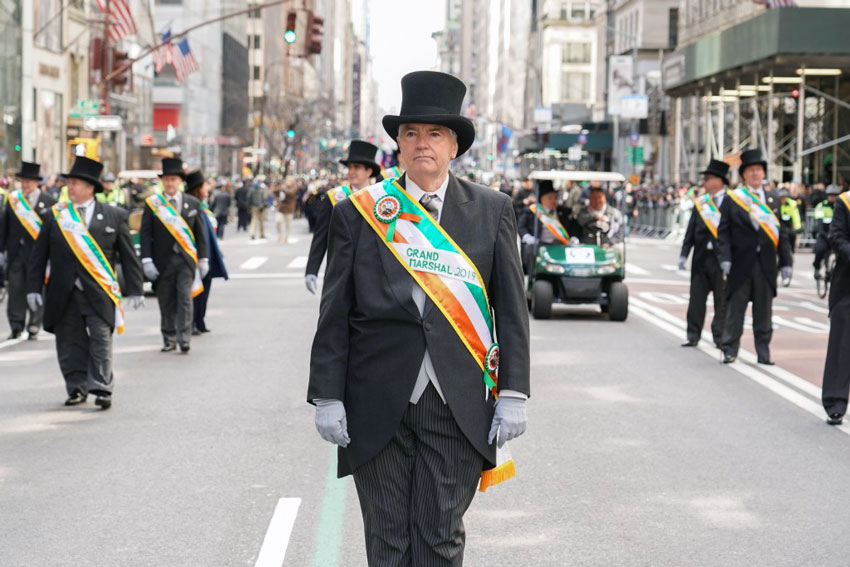 Flower show at Macy's
Macy's flower exhibition has been held at major stores in New York, Chicago and San Francisco since 1946. This exhibition brings together about 500,000 visitors. The show is based around a particular theme and from there spectacular creations are made with thousands of flowers from different places.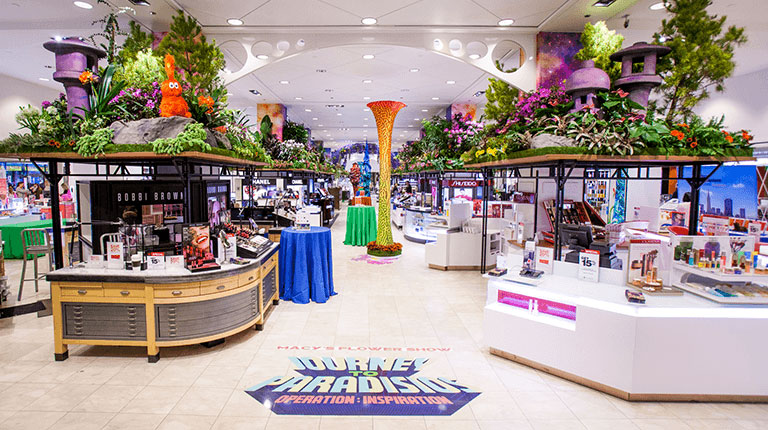 Broadway musicals
As it's still off season, in New York in the spring it's easier to find cheap tickets and you can even find some 2x1 deals.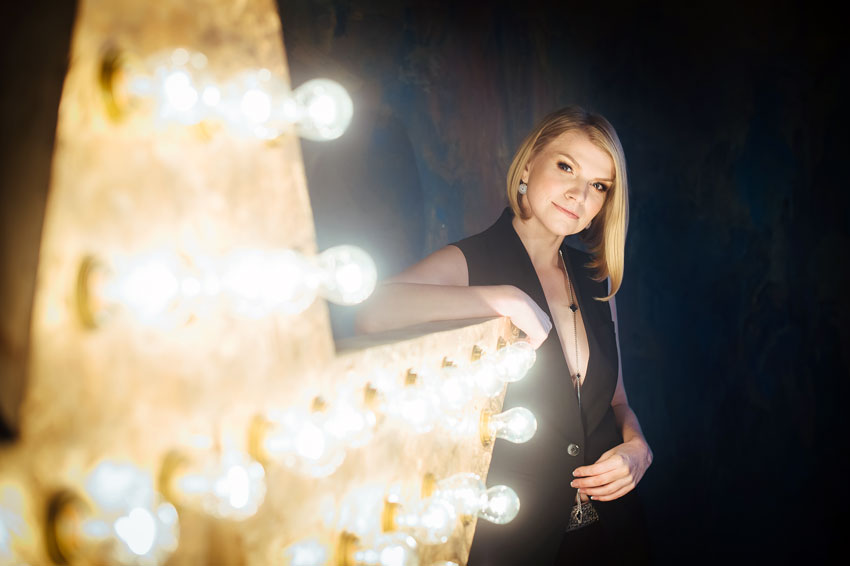 Greek Independence Day Parade
March the 25th is Greek Independence Day. New York's Greek community organizes a Fifth Avenue parade to share its culture with all the visitors and New Yorkers attending the event.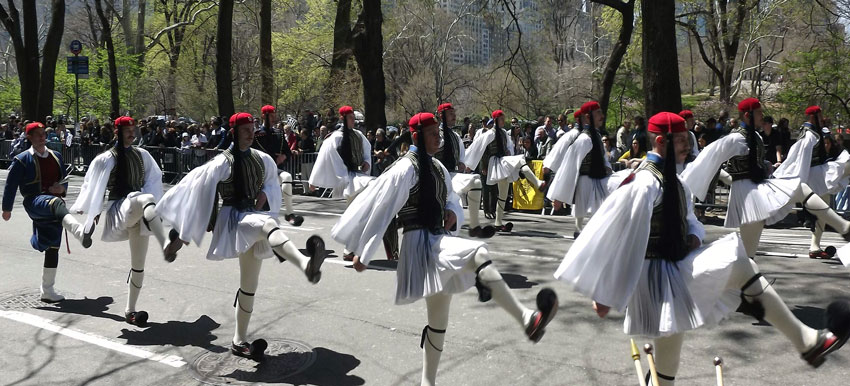 Armory Show
The Armory Show is one of New York City's leading art fairs and the ideal cultural destination to discover and collect the most important art of the 20th and 21st centuries. It was founded in 1994, and since then it has served as a nexus for the art world, inspiring dialogue, discovery and sponsorship in the visual arts.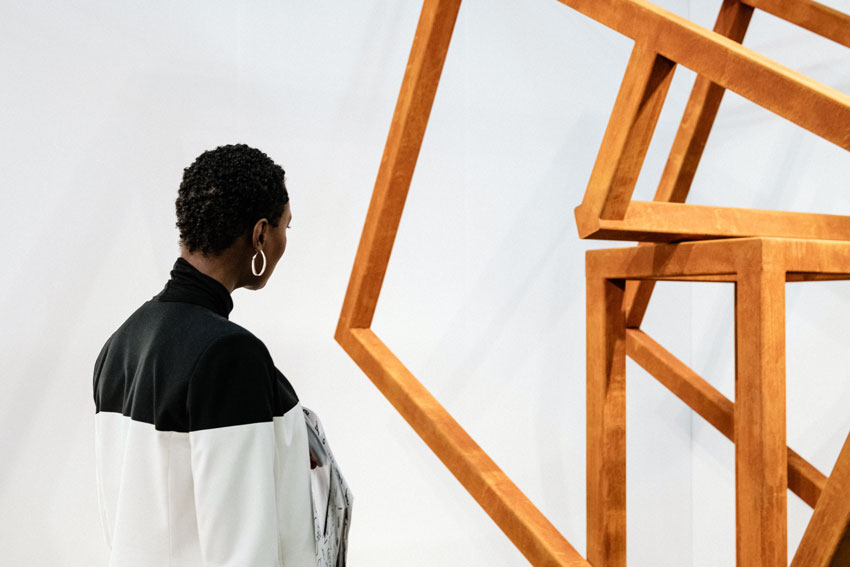 It was founded by four New York gallery ownerss: Colin de Land, Pat Hearn, Matthew Marks and Paul Morris, who sought a platform to present and promote new voices in the visual arts.
New York International Children's Film Festival
International Children's Film Festival in New York. It was founded in 1997 to support the creation and dissemination of thoughtful, provocative and intelligent films for children and adolescents from 3 to 18 years old and it's the biggest film event involving them in North America. It encourages active and demanding vision, and stimulates debate among viewers, families and the film community.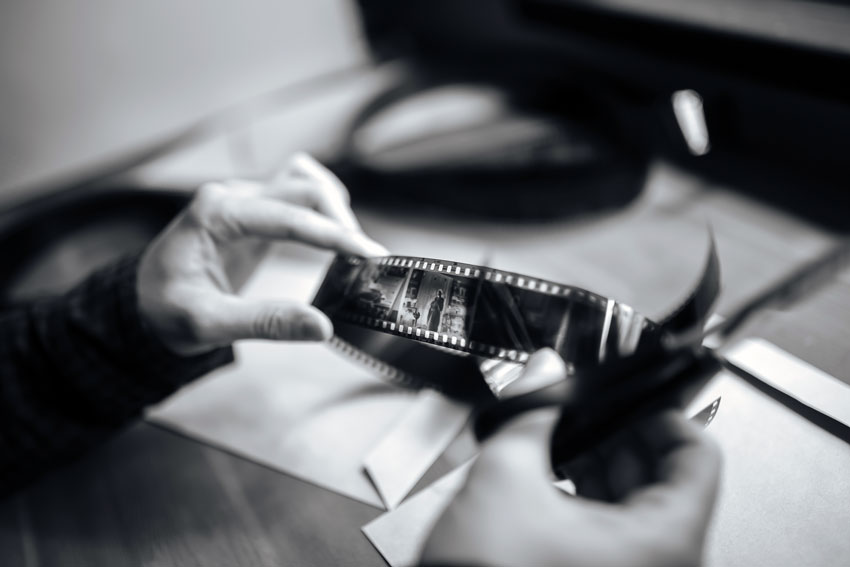 National Beer Day
April the 7th is National Beer Day in the United States and New York City prepares to celebrate it in a big way. It's also a great opportunity to visit the Brooklyn breweries and sample some of their local beers.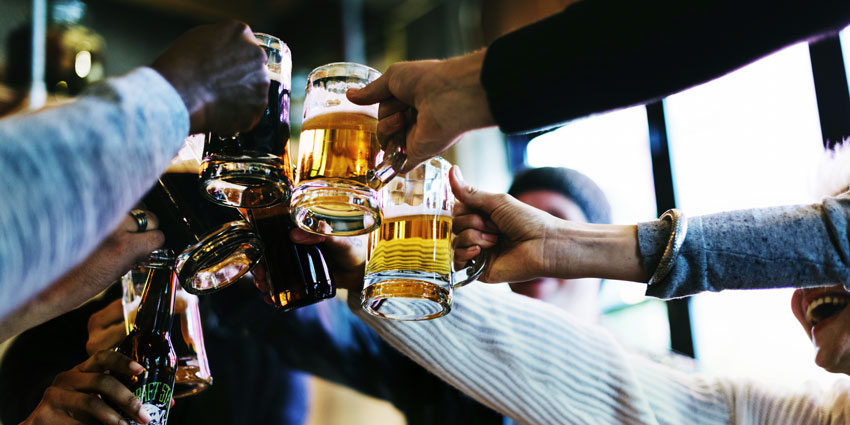 New York International Motor Show
Introducing the latest automotive trends, the New York International Auto Show offers an incredible collection of cutting-edge design and extraordinary innovation.

More than four floors of exhibitions by car manufacturers from around the world. They have all the latest models and the most futuristic concept cars. Around 1,000 cars and lorries can be seen in North America's first and largest car showroom. This motor show had its beginnings in 1900 and is a great place to visit for spring in New York.
Brooklyn Folk Festival
The Brooklyn Folk Festival strives to present the best of American and world folk music. Located in the heart of Brooklyn, the festival is a celebration of non professional music, cultural diversity and memory. Each year they present new talents from the thriving New York music scene, as well as other national and international artists.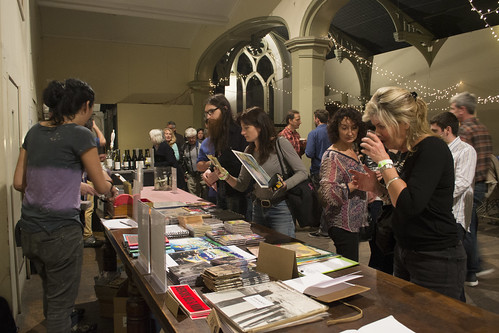 It is held annually and offers an opportunity for young people and adults to get together, to enjoy music, workshops, film screenings, competitions and improvisation sessions and to be part of the vitality of the community which is promoted by the festival.
Visit High Line Park
The High Line Park is a linear park of just over 2 kilometers that is located on an old elevated railway track. Based on a similar project in Paris, it was developed as a green walkway together with a park.
Visit Luna Park
From the second week of April we can have a lot of fun in this mythical amusement park on Coney Island beach. Coney Island is home to the first roller coaster in New York in 1884. It delighted thrill seekers and started a craze that spread rapidly around the world. A visit to this amusement park can make your trip to New York a touch more special because who isn't reminded of their childhood in a place like this?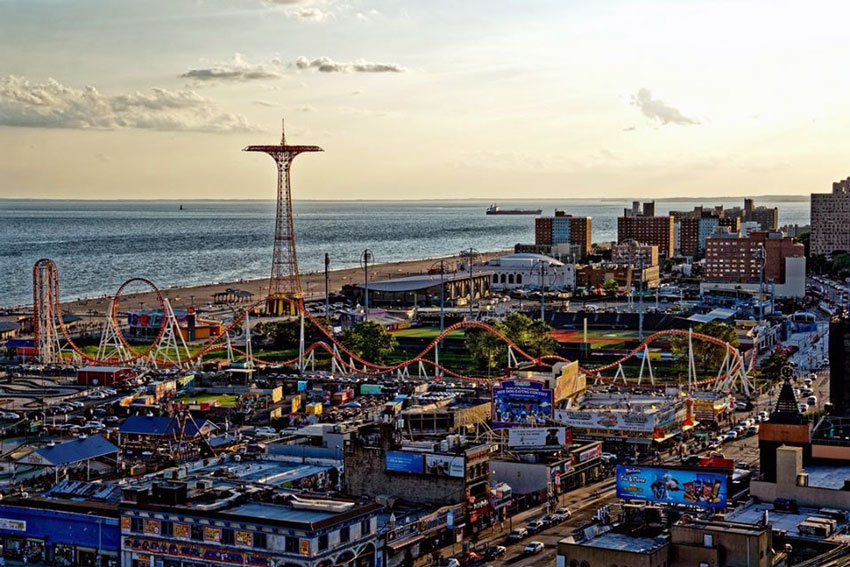 Tribeca Film Festival
The Tribeca Film Festival originated in 2002 from film producer Jane Rosenthal and actor Robert De Niro. It emerged in response to the September 11, 2001 attacks, with the aim of recovering the loss of vitality suffered by this New York neighborhood of Lower Manhattan. The festival's mission is to "allow the international film community, and the general public, to experience the power of cinema by redefining the festival experience."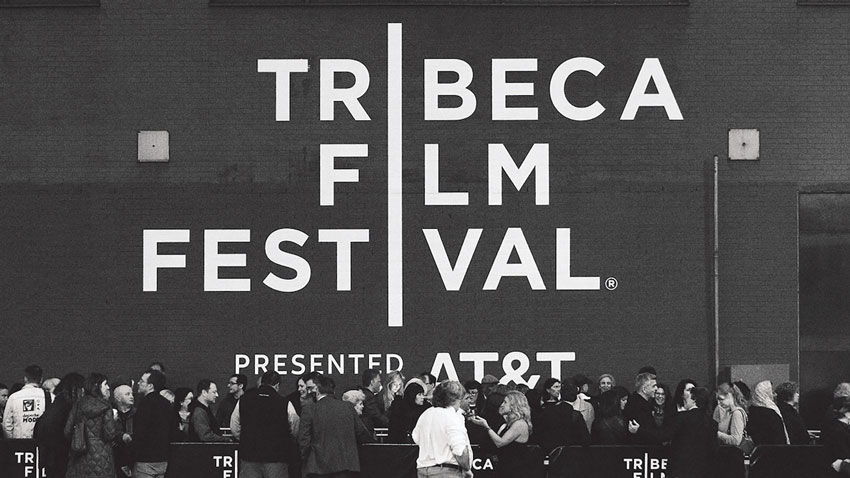 Cherry Blossoms in flower - Sakura Matsuri Festival at Brooklyn Botanical Garden
Taking advantage of the cherry blossom season, the Brooklyn Botanical Garden holds the Sakura Matsuri festival. It celebrates not only this spectacle of nature but Japanese culture, from which this tradition originates. A real treat for the senses - spring in New York.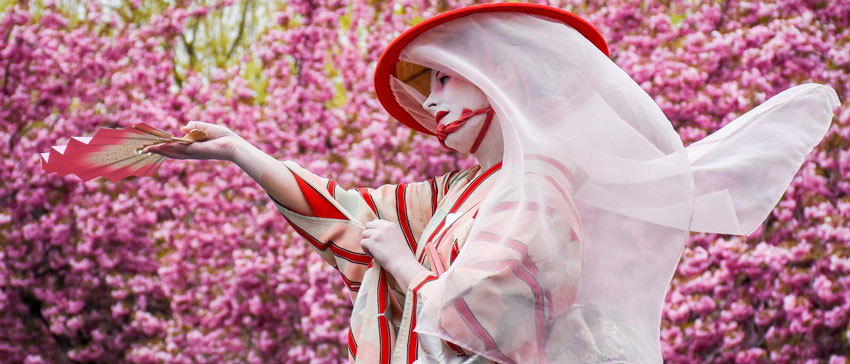 Car Free Earth Day
The day with no cars is a fantastic opportunity to enjoy the streets of the Big Apple in all its spaciousness. It is celebrated the weekend before Earth Day (April 22). This event opens to the public 30 blocks from Broadway, from Times Square to Union Square, from 9:00 to 15:00.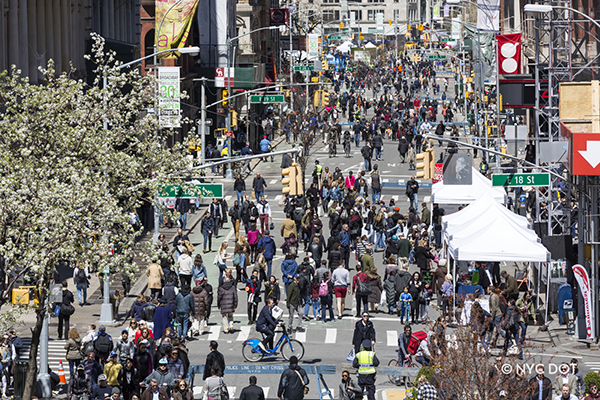 Governors Island
This island is ideal for a different sort of day in New York. It only opens during the good weather months, from May 1st to October 31st, and there we can stroll around expansive lawns, see some historic buildings and even art. We can get to Governors Island on a daily ferry from Manhattan or from another one that only has a service at weekends from Brooklyn.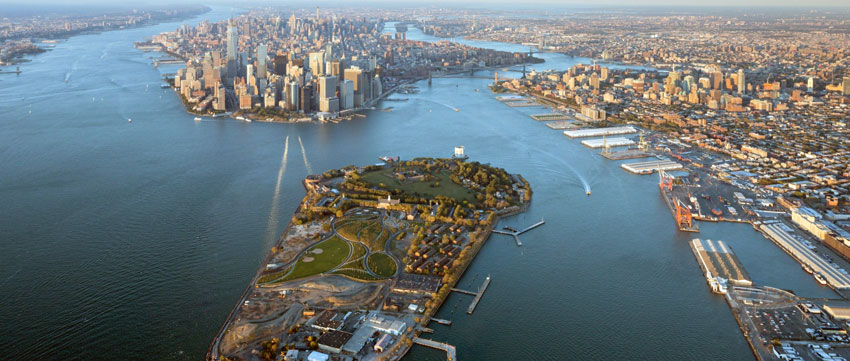 Once on the island you can explore it on foot or rent a bike. There are several artistic installations to be found in its green zone and also some buildings from its military past that you can visit. While you're taking a breather from the hustle and bustle of Manhattan, you can also enjoy some magnificent views of the New York skyline.
Five Boro Bike Tour
Every first Sunday in May, 32,000 cyclists from all over the United States and dozens of countries around the world gather in New York for a 60-kilometre tour of the Big Apple. As the name suggests, the tour passes through new York's five borough districts. An event worth watching or enjoying during a spring in New York trip.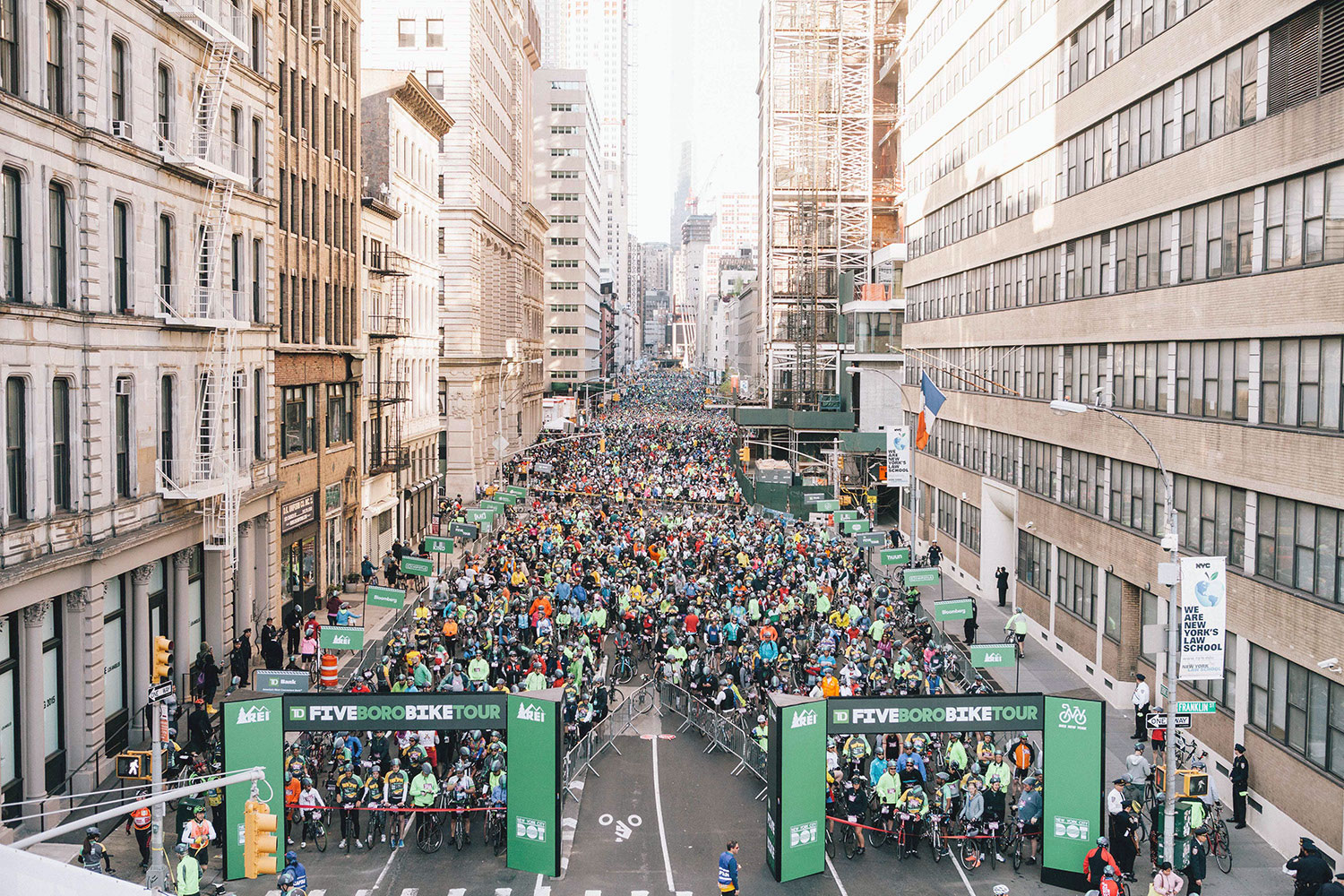 Manhattanhenge
Manhattanhenge, or Manhattan solstice, is a phenomenon that takes place twice a year between late May and mid-July, when the sun at sunset lines up in an east-west direction with the streets of the urban layout completely illuminating all of them.This marvel can be seen two days in a row. On the first day the sun in its entirety can be seen suspended on the horizon and the next day only half of it and on both occasions the sunset is spectacular.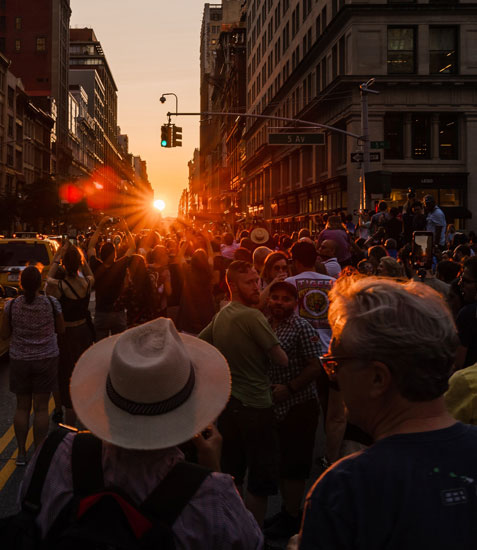 There are several places where you can get a great view of this phenomenon - 14th Street, 23rd Street or 34th Street. On 34th Street will be able to contemplate the beauty of the sunset with the architectural beauty of the Empire State Building. As in any famous New York event the streets are crowded with both local sightseers and tourists, so if you are keen on getting it all on record taking photos, you will need to be there half an hour before sunset.
9th Avenue Food Festival
This is the oldest and largest food festival in New York City. The Ninth Avenue Association organises it and their aim is to produce quality events and promotions which generate business for all participants and to foster a strong sense of community.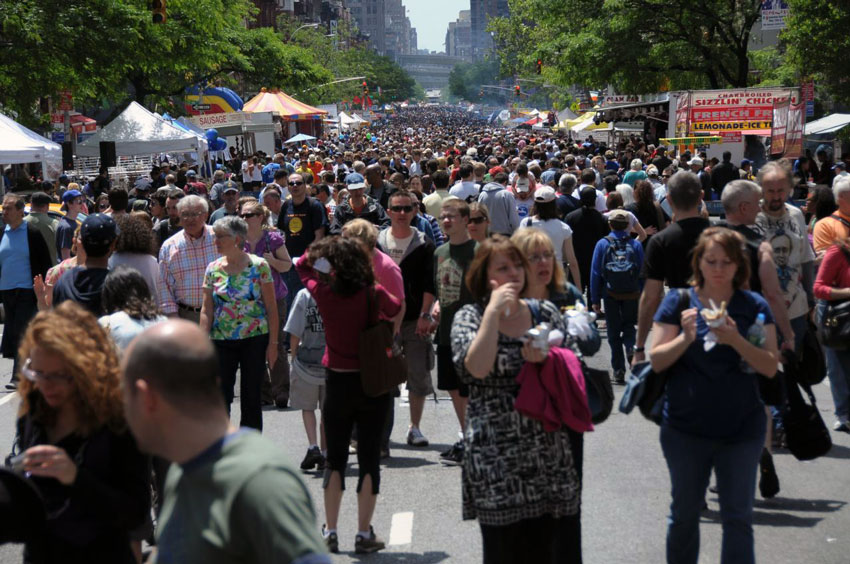 May the 5th
Mexico's Independence Day is celebrated on May the 5th when several varied activities are held throughout the Big Apple. Here are four of them that you might like to include in your trip to New York:
Party in The Bronx. In the Little Italy area you can have a great day with live music, artistic performances and raffles.
Mexican Festival in El Barrio. On 16th Street, between Third and Second Avenue, you'll find numerous activities, with rhythm and colour in abundance.
Enjoy Margarita cocktails. Taking advantage of the festivities, many bars and restaurants in the city offer special prices for your Margarita.
Visit to the Museum of the City. Another celebration for this day is an event held in the museum for the whole family where arts and crafts are made to the sound of traditional Mexican music.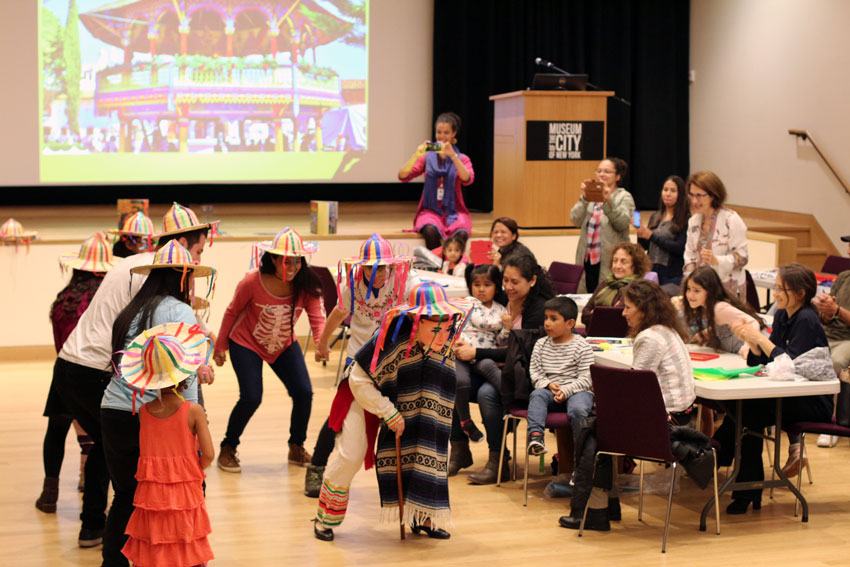 Dance Parade
We have before us the biggest dance event in New York City. The Parade and Festival take place in mid-May from 13:00 to 19:00. It was first performed in 2006 and today more than 10,000 members of the New York dance community join together to share their art and talent. The street parade is 2.4 kilometers long and starts at 21st Street and Broadway featuring over 100 unique dance styles. Traditional dance groups mix together with the contemporary groups, dancing all kinds of dances, from polkas to African and Indian dances.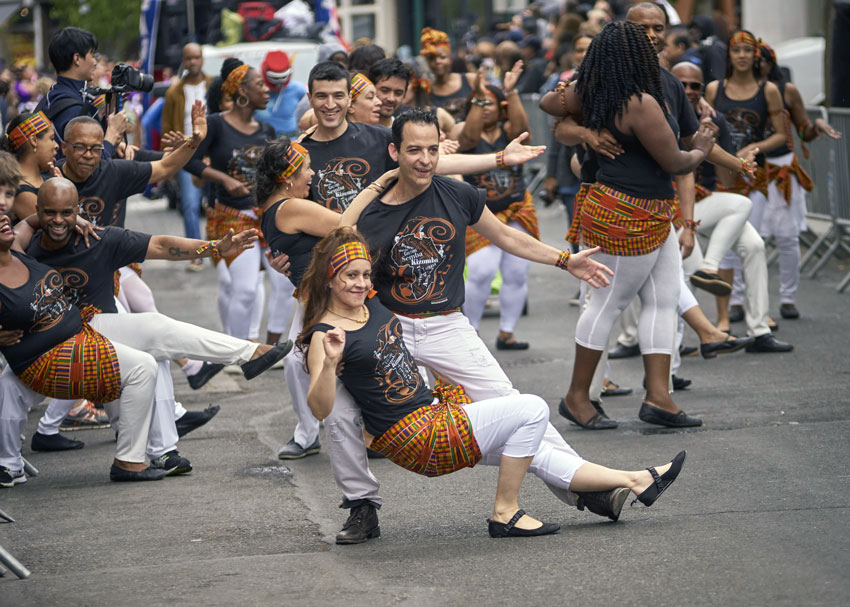 Fleet Week New York
Fleet Week is an annual event that, for a week in May in New York, revindicates the role of the Coast Guard, the Navy and the Armed Forces.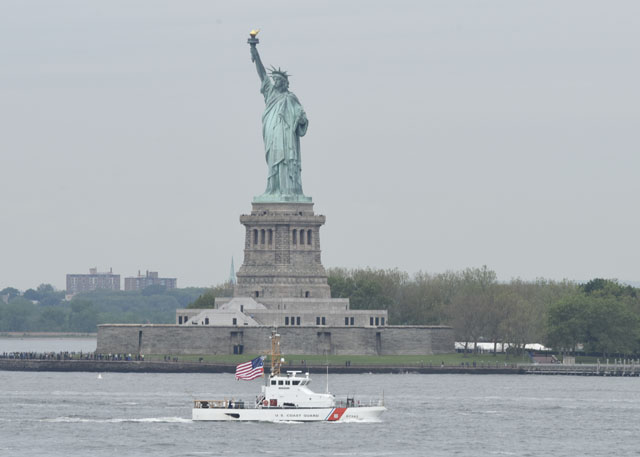 New York City's first Fleet Week took place in 1892. Since then, the New York Passenger Ship Terminal, on the Hudson River, has accommodated the huge vessels of these forces for a week. You can board and look round the ships with the help of a guide and you can also greet the soldiers and sailors, as well as watch air shows and military demonstrations.
Memorial Day
Memorial Day is a day of remembrance that takes place in the United States of America every year on the last Monday in May to remember the American soldiers who died in combat. Soldiers who died in the American Civil War were originally remembered on the side of the Union. However, after World War I, it was extended to all U.S. soldiers who lost their lives in any of the wars in which the country has participated.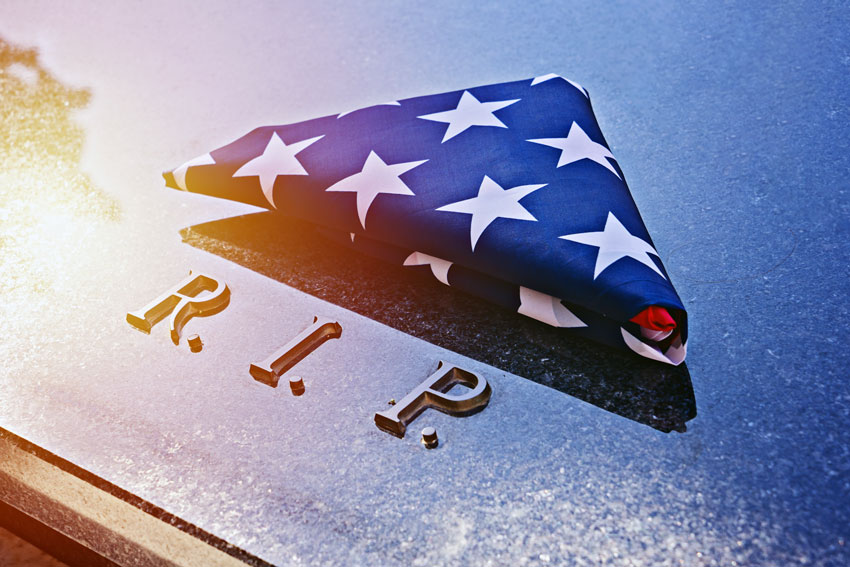 Washington Square Outdoor Art Exhibit
At the weekend before Memorial Day and the following one, the streets near Washington Square Park host artists and craftsmen from across the New York metropolitan area of the United States and also international artists. So we can enjoy, in the spring in New York, an outdoor art exhibition that began back in 1931 by Jackson Pollock himself.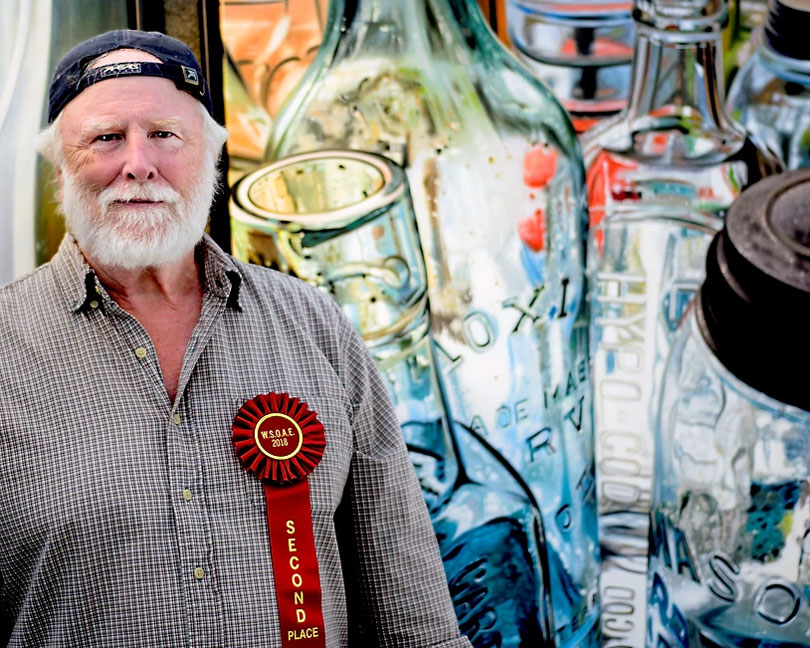 Shakespeare in the Park
One of the most established and loved contests of the summer in New York. Since 1962, Shakespeare in the Park has paid homage to the most universal playwright of all time, William Shakespeare.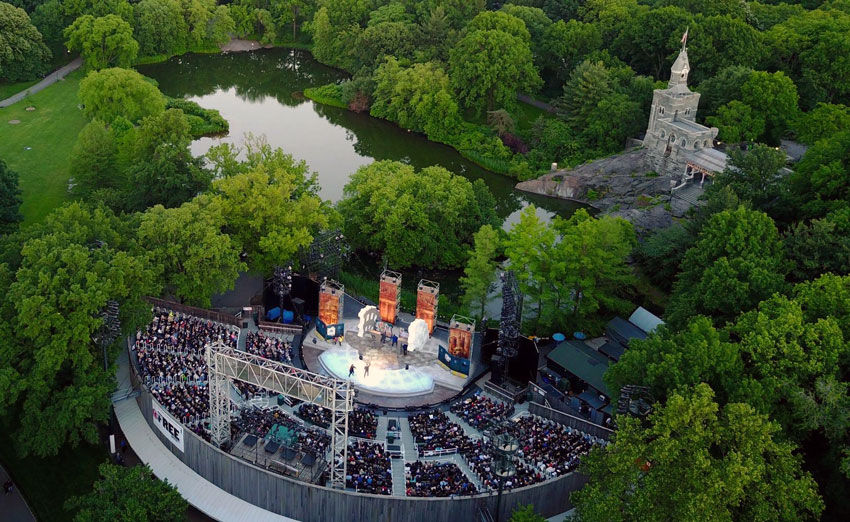 Performances take place at the Delacorte Theatre in Central Park. It is an outdoor amphitheatre, built in 1961 and with a backdrop worthy of a Summer Night's Dream; Belvedere Castle and Turtle Pond.
Holi Hai Indian Festival
Holi Hai is a Hindi phrase that translated means 'It's Holi!'. It is a festival that celebrates the arrival of spring, the harvests, unity and joy. Holi has its origins in Hindu mythology and over the years has traditionally been celebrated every spring by throwing vibrant coloured powder (Holi Gulal) over the people in the street.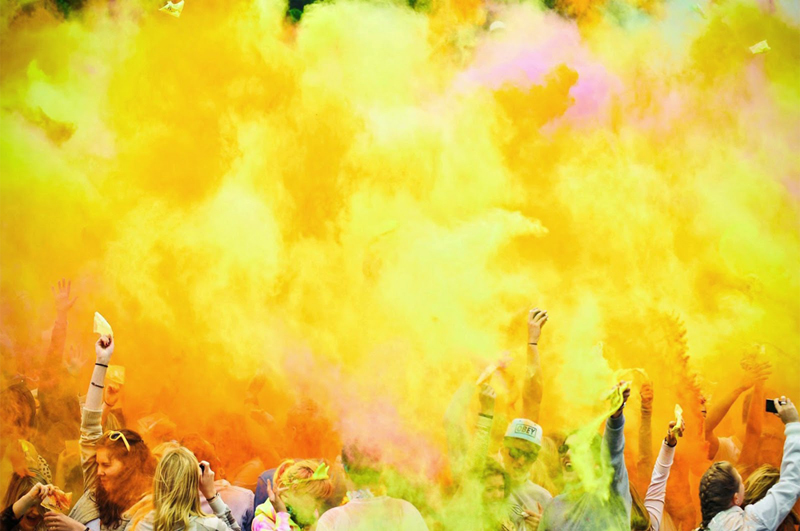 In addition to colour, this festival is bursting with food, sweets and cakes and dance and is considered to be Manhattan's most colourful party. We can also enjoy the music of the Dholis (drums), of Bhangra inviting families to get up and dance.
NBA basketball games and playoffs
The playoffs don't start until April, so during March we can go to a game of the New York Knicks or the Brooklyn Nets. Then, if either of them gets a place in the finals, we can have a few more opportunities to watch a game.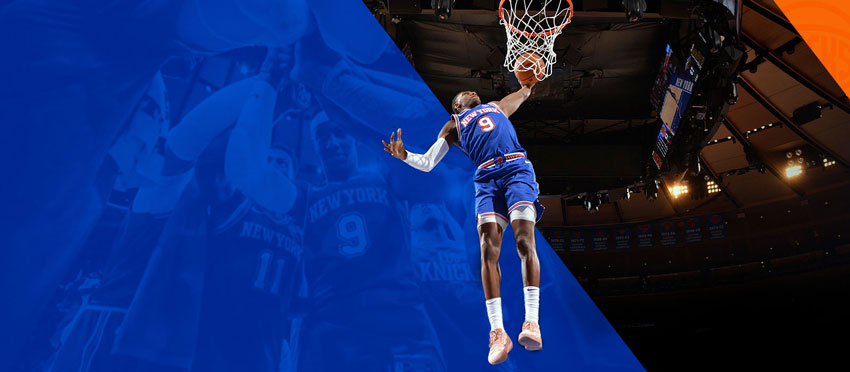 Going to an NBA game during a trip to New York means immersing yourself in New York daily life - it's not just a game, it's not just a puppy, it's not just a stadium, it's not just a city. It's just that it's the NBA, it's Madison Square Gardens or the Barclays Center, it's New York. Everything about it is spectacular, the place, the game, the people and the atmosphere. So much so that it doesn't matter if you're not a fan of basketball, it's a not to be missed unforgettable experience.
NHL ice hockey matches and playoffs
From October to April, the American Ice Hockey League (NHL) takes place. The local teams are the New York Rangers and the New York Islanders. Once the league is over, playoffs called the Stanley Cup are started. In addition to being considered the best ice hockey league in the world, it is one of the four major leagues in the United States.The other 3 are the NBA basketball, the NFL American football and the MLB baseball.
Rangers play at Madison Square Gardens in Manhattan, as do the basketball Knicks. In turn, the Islanders compete at the Barclays Center in Brooklyn, just as the Nets do in the NBA. However, the Islanders are building a new pavilion, the Belmont Park Arena, in the Queens district. They are expected to transfer there for the 2021–22 season.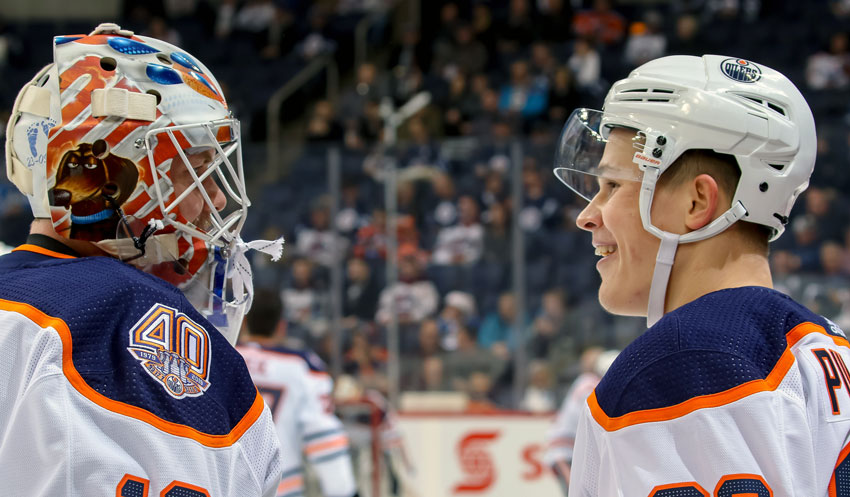 As the Rangers are the more historic team, tickets to see them are more expensive, ranging from 100$ to 200$, whereas tickets for an Islanders match range from 60$ to 100$.
MLS football match
The league begins in March. The New York team is New York City FC. They play in the Bronx at Yankee Stadium. It is a relatively recent sport in the United States, as the league was created in 1996.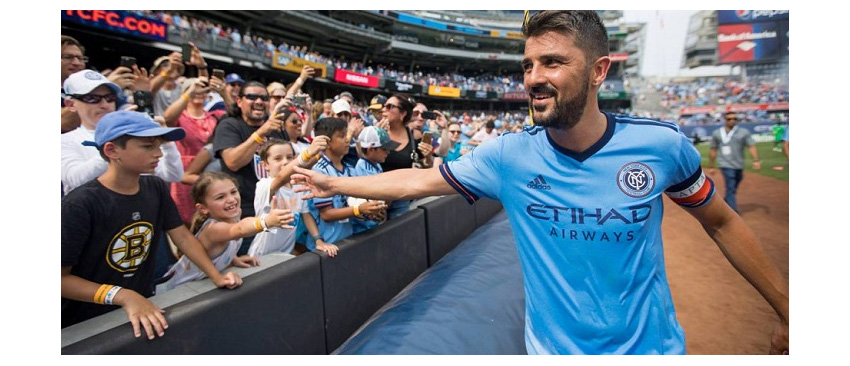 MLB baseball game
It's New York's baseball season from April to October. The New York Yankees and New York Mets are the city's local baseball teams. Although it is not a particularly well followed sport in our country, in the States it is one of the top ranking ones and the stadiums are almost always full, even though there are sometimes several matches a week. The atmosphere is great and tickets range from 10$ in the terraces to 500$ in a VIP area. Another exceptional plan for our spring in New York.

Last but not least, Take me to New York all year round activities
Our guided trips to New York include a number of not-to-be-missed activities on your visit to New York. The admission tickets have the prices on them, but if there isn't one, it means it's a free activity.
Remember that on our trips you will be accompanied at all times by our guides, who you will meet at the airport, before taking the flight together to New York.
Right now we do not have any trips for these dates:
Tell us when your preferred dates would be for your spring 2022 trip
I'd love to travel with you in spring 2022 to New York, but I need more information
We give you 7 reasons to trust us and we solve your most frequent doubts. In addition, we explain in detail what the price of the trip includes and what your trip will be like with us.
You're still not quite clear. Would you like to talk to us? We'll be happy to help. Contact us by any of the following:-