The quintessential time of the holidays is also a perfect time for you to enjoy summer in New York
Summer in New York with its multitude of outdoor activities and plenty of hours of sunshine, invites you to spend all your time outdoors. Gastronomy, theatre, cinema, concerts and art all move out of their usual venues and completely take over the outdoor spaces of the Big Apple. Look at everything there is to do!
Index
What to see and do in summer 2022 in New York
Weather in New York in summer 2022
The weather in summer in New York is perfect for spending days outdoors, although in August it does get very warm. The average temperature from June to August ranges from a minimum of 18ºC to a maximum of 32ºC, but due to the humidity it can feel warmer than that. And yes, even if it is summer, it occasionally rains. The average rainfall is about 8 days in June and July and it falls to about 3 rainy days in August.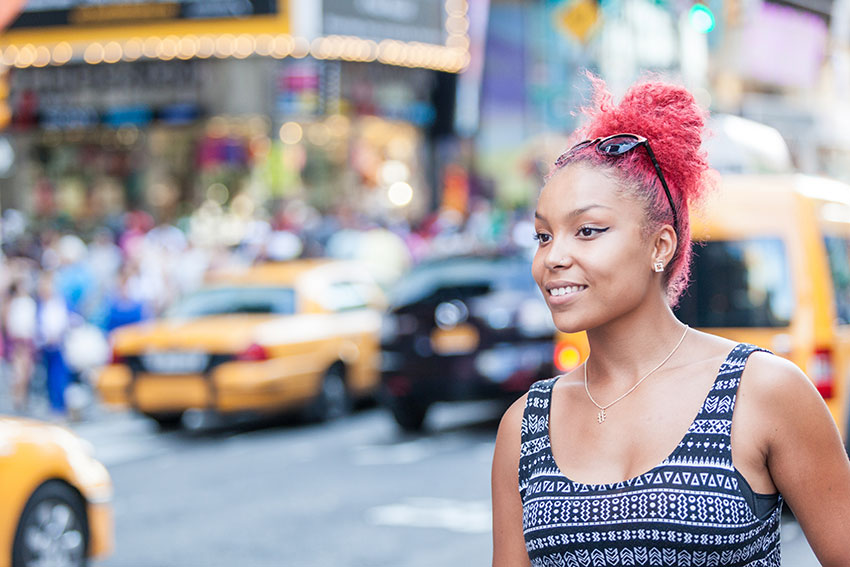 What clothes to wear in summer 2022 in New York
We have to take into account that New York summers are very warm.The humidity added to the high temperatures makes it feel even warmer. So don't forget to pack the following:
Light cotton clothing that is loose fitting and breathable - short-sleeved T-shirts, tops, short trousers or shorts and skirts are all essential.
Comfortable and breathable footwear and ideally, two pairs.You could take some walking sandals or something similar which feel really comfortable and would get you through a marathon, don't foget we'll be doing a fair bit of walking round the city! Your other pair could be some trainers for example.
Waterproof. Although it's summer and the weather's lovely, there's always the chance of getting caught in a storm.
Picnic blanket or towel. In summer there are lots activities in the parks, so you'll need a light blanket, (or a towel would do) to be able to sit on the grass to enjoy a picnic, a good film, a play or a musical performance.
Sunscreen. Essential.
Cap, hat, visor or whatever you use to cover your head.
Sunglasses.
Denim or similar jacket, light sweater or cardigan for when it cools down. You will also need these when you are inside buildings as the air conditioning is always on at maximum.
We are confident in giving you this advice because our guides travel with the groups, so they have experienced in person the things you actually need and use during the summer in New York.
What to see and do in summer 2022 in New York
Optimum temperatures bring all New Yorkers out onto the street. Nobody wants to miss the concerts, the festivals, the cinema and all the other outdoor performances in New York City. There are so many really interesting events and here are some tempting examples of what awaits you in New York in summer 2022. Shall we go?
Summer Festivals
New York begins the festival season in May with some events continuing throughout the summer. So New York offers us all this to choose from:
SummerStage
Since 1986, this performing arts festival has been held in New York. Some of the parks in the 5 districts of the Big Apple play host to actors, musicians and other performing artists, and one of the most outstanding scenarios is the Rumsey Playfield in Central Park. Most performances are free and all of them have stands where you can get refreshments.
Shakespeare in the Park
One of the most established and loved contests of the summer in New York. Since 1962, Shakespeare in the Park has paid homage to the most universal playwright of all time, William Shakespeare.
Performances take place at the Delacorte Theatre in Central Park. It is an outdoor amphitheatre built in 1961 and with a backdrop worthy of a Midsummer Night's Dream, Belvedere Castle and Turtle Pond.
Opera in the Park
Another of New York's most loved festivals, with free concerts of classical music, jazz, blues, gospel and opera in each of the Big Apple districts. Central Park and Bryant Park are just two of the scenarios. The festival takes place in mid June and the dates are yet to be confirmed. There are food stalls to buy food and drink but you can take your own if you wish.
In addition to this they have a gesture that we love: at every concert, the park holding the event gives out picnic blankets so you can enjoy the performance in comfort.
Make Music New York
June 21 is the longest day of the year, the summer solstice and music day. What better way to celebrate than with 12 hours of music on the street? Free concerts are available throughout the city from 10am to 10pm. More than 1,000 performing artists on the streets, in the parks, the squares and gardens of New York. It feels great just thinking about it!
Summer Cinema
During the month of July, many of New York's parks and gardens and some roof terraces are transformed into a cinema. The programme changes weekly, so every day of the week the showings are in a different neighbourhood and cinema: Central Park Film Festival, Intrepid Museum's Summer Movie Series, Movies with a View, Brooklyn Film Festival, Rooftop Films, Roosevelt Island Outdoor Summer Movie Series, Films on the green, MOCA Cinema at Columbus Park... All of these are just a few of the outdoor film festivals. New York provides the film and you provide the popcorn.
Broadway in the Park
Bryant Park is the setting for Broadway in the Park, another of the most anticipated festivals in New York City in July. Here you can enjoy short exerpts of the best Broadway musicals, 3 or 4 different numbers of different musicals. They take place every Thursday in July and August from 12:30 to 13:30 and if you don't get there in time to get a seat, you can relax on the grass to enjoy the show. If you take a midday snack with you it makes for a perfect lunch hour.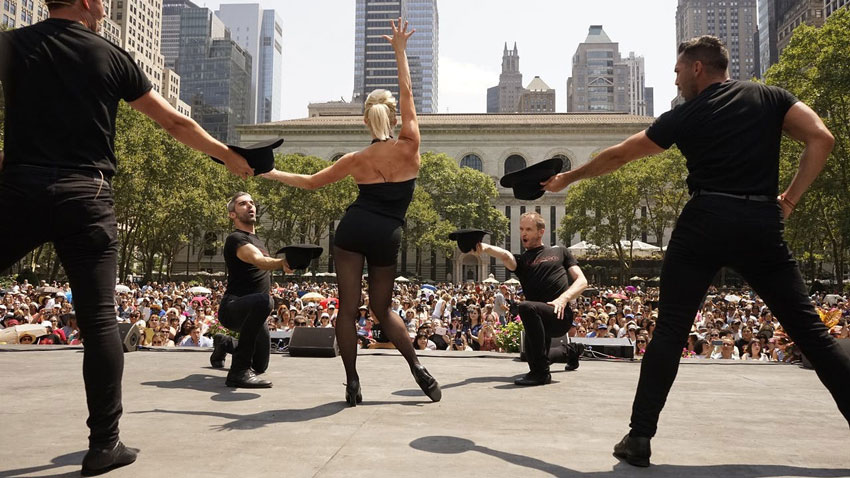 Lincoln Center Out of Doors
The Lincoln Center is located very close to Central Park and consists of several buildings that house different artistic and cultural organizations and institutions. Every year they offer the most renowned performances of opera and ballet. Their most celebrated performances are those that take place between the end of July and the beginning of August, defined in the Out of Doors festival, where you can enjoy diverse performances of classical and contemporary dance, concerts and family shows free of charge.
Mermaid Parade
The Mermaid Parade is one of the craziest and most outlandish parades that take place in the summer in New York... and for all that, the standard is really professional. It is held on the Coney Island promenade, next to the amusement park. Summer is welcomed with a mythical and mythological parade - mermaids, sea gods, marine themed floats, pirates and sea creatures all have a place in this fun festival.
It takes place every year at the weekend closest to the summer solstice, so dates vary between the 17th and the 24th of June. It has been held since 1983, and in recent years has established itself as one of the most important artistic parades in the United States.Up to 3,000 people participate letting loose their imagination and creativity to create artistic compositions as extravagant as they are beautiful where glitter, audacity and fantasy abound.
Gay Pride Parade
In the early morning of June 28, 1969, a police raid was carried out in a pub frequented by gays, transvestites and lesbians in New York, the Stonewall Inn in Greenwich Village, but nothing went as planned. Known as the Stonewall riots, it turned out to be a spontaneous and violent rebellion against the police action and is considered to be the catalyst for the LBGTQ movement in the United States and around the world. By December 1969, two gay activist organizations had been set up in New York and international gay and lesbian rights organizations were founded within a few years.
On June the 28th 1970, the first Gay Pride demonstration took place in New York.
Today, gay pride is celebrated internationally. Activities are held in New York for a whole week, most of which take place in the city's most popular gay neighborhoods, West Village, Chelsea and East Village. Art and photography exhibitions and talks take place to remind us that the battle continues and that homosexuality is punishable in more than 70 countries. The festivities intensify over the weekend when popular races, dance contests, monologues and concerts all take their turn. The most emblematic event is the parade in which more than 500 groups and a hundred floats participate, forming a never ending fun procession along the 3 kilometer route, from Madison Square Park to the Village to pay homage to the Stonewall Inn, then on to Seventh Avenue where the parade finishes.
Pinknic
One of the most recent events of the summer in New York. It has been held since 2016 but has been so well received that it has become one of the most established festivals. A fantastic picnic, concerts and lots of DJs is what this festival offers, but with a peculiarity: everyone has to wear pink and/or white.
Since 2019 it has been held at Randall's Island Park and is held over a weekend. You can buy a weekend pass or a day ticket for Friday or Saturday. There are different types of tickets. A regular ticket includes access to concerts and the food and drinks area, it also entitles you to a glass of rosé wine for a 100$ day ticket and 285$ for a weekend pass. VIP tickets offer the same but in addition are also entitled to use the pool. Prices range from 275$ for a day to 500$ for the whole weekend.
MoMA PS1 Warm Up Party
MoMA PS1 is one of the largest contemporary art institutions in the United States. It is located in the Long Island neighbourhood of Queens and it carries out several national and international projects throughout the year and during the summer the Warm Up Party festival is held. This takes place every Saturday in July and August from 15:00 to 21:00 in the rear patio of The MoMA PS1 where they have theatre performances, art exhibitions of various disciplines and the best of electronic music, rap and emerging art.
Manhattanhenge
Manhattanhenge, or Manhattan solstice, is a phenomenon that takes place twice a year between late May and mid - July when the sun at sunset lines up in an east-west direction with the streets of the urban layout completely illuminating all of them.This marvel can be seen two days in a row. On the first day the whole of the sun can be seen suspended on the horizon and the next day only half of it and on both occasions the sunset is spectacular.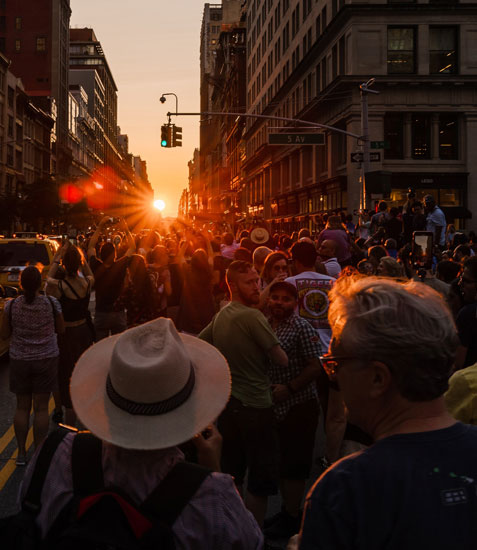 There are several places where you can get a good view of this phenomenon - 14th Street, 23rd Street or 34th Street. On 34th Street you will be able to contemplate the beauty of the sunset with the architectural beauty of the Empire State Building. As in any famous New York event the streets are crowded with both local sightseers and tourists, so if you are keen on getting it all on record taking photos, you will need to be to be there half an hour before sunset.
Restaurant Week
They say that all the kitchens in the world can be found in New York. During Restaurant Week the best kitchens in New York are at your fingertips, as the menus are set at fixed prices between 25$ and 42$ (excluding drinks and gratuities). It is held from late July to mid August. Booking in advance is advisable as demand is high. For all the information about the restaurants participating and to make a reservation visit its website at https://www.nycgo.com/restaurant-week.
NYC Summer Streets
One of the best initiatives in New York is the New York City Summer Streets. It takes place during the first 3 Saturdays of August. Several streets of the city are closed to traffic and everyone, both local citizens and tourists are invited to enjoy them. All of Park Avenue is pedestrianized and for a few hours you can walk, skate, run and enjoy the best of New York - its streets.
Harlem Week
Harlem week lasts for almost the entire month of August and during this time Harlem's own residents organize performances, activities, markets and exhibitions where they let people know about their neighbourhood, its history, its gastronomy and its culture.
Jazz Age Lawn Party
The Jazz Age Lawn Party has been held every summer on Governors Island since 2005. What began as a gathering of fanatical friends of flappers, art deco and jazz has become one of the most recognized and prominent events of the summer in New York.
It celebrates all the social and cultural movements that the previous age brought forward, beyond prohibition, like the achievement of the female vote and the revolution and evolution of art in all its expressions.
There are endless activities such as orchestras, dances, charleston and peabody classes, dance shows, games, photo booths, vintage car shows, vintage shops, competitions, picnics, all the frenzy of the 1920s and lots of cocktails, because at this party, alcohol is legal.
US Open Tennis Tournament
Between the end of August and early September, the US Open is held, the last Grand Slam tournament of the year. It has gone from being a high society recreational event to one of the most famous competitions in the tennis world.
Since 1978 the tournament has been held at the USTA Billie Jean King National Tennis Centre, one of the largest tennis complexes in the world with 33 courts, 22 on-site and 11 in the adjacent park. It is located in the Flushing Meadows neighbourhood of Queens.
In order to go to one of the matches, you have to get tickets plenty of time ahead and they are usually available from June. If you don't manage to get tickets or aren't really interested in sport, you can always take the opportunity to visit the neighbourhood and enjoy the feel of this district.
Last but not least Take me to New York all year round activities
Our guided trips to New York include a number of not to be missed activities on your visit to New York. The price of the admission tickets is not included in your trip and unless we indicate to the contrary, admission will be free.
Remember that on our trips you will be accompanied at all times by our guides, who you will meet at the airport before taking the flight together to New York.
For now we do not have dates scheduled for this time, but you can choose the ones you want:
Tell us your dates for your summer 2022 trip
I'd love to travel with you in the summer of 2022 to New York, but I need more information
We give you 7 reasons to trust us and we solve your most frequent doubts. In addition, we explain in detail what the price of the trip includes and what your trip will be like with us.
Still not convinced, would you like to talk to us? We'll be happy to help through your preferred method of communication:-