We want to share with you this magical date in the city of our dreams; let's live together Christmas in New York
Christmas is a magical time anywhere in the world. But in New York that magic multiplies, becomes ubiquitous and absorbs you without you nodding. Here there is no place for Mr. Scrooge or the Grinch, the Christmas spirit is in every pore of anyone who spends Christmas in New York.
Index
What to see and do at Christmas in New York
What is the weather and what to wear for Christmas in New York
This one's easy. Have you read our page of what to do in New York in December 2021? There we tell you both the December weather and the necessary clothes. We make an advance: it's very cold and you have to wear a lot of warm clothes.
What to see and do at Christmas in New York
It would be easier to say what you can't see and do in New York. The city of skyscrapers becomes more homely and welcoming than ever at this time of year and plans and events appear by dozens of mushrooms in the forest. Let's review our favorite plans to enjoy Christmas in New York.
Christmas Eve and Christmas in New York
Christmas Eve is the only day of the year when you can visit one of the few private parks that exist in New York, Gramercy Park, located in the heart of the Gramercy neighborhood. Only the neighborhood's neighbors have access to the park, it is closed to lime and singing and there are only 400 copies of the keys that open its doors, all numbered. Gramercy Hotel guests can also have access to the park under the supervision of some Employee. But on Christmas Day, the park opens its doors for all citizens and visitors who want to come and sing carols with the neighborhood's neighbors. The only requirement is to carry a candle or flashlight to light the event.
On Christmas Day in New York,many of the city's attractions are closed, perfect time to stroll around the city, have a hot chocolate at Bryant Park and admire the decorations of Fifth Avenue or make our own route of the Christmas trees that adorn the Big Apple.
Visit the Christmas lights of Dyker Heights
Dyker Heights is a Brooklyn neighborhood. Instead of the typical Manhattan skyscrapers, we don't find a residential area here. There are both townhouses with garden and mansions and, what they have in common, is that it transforms into a festival of christmas decorations and lights from Thanksgiving weekend to the end of Christmas in New York.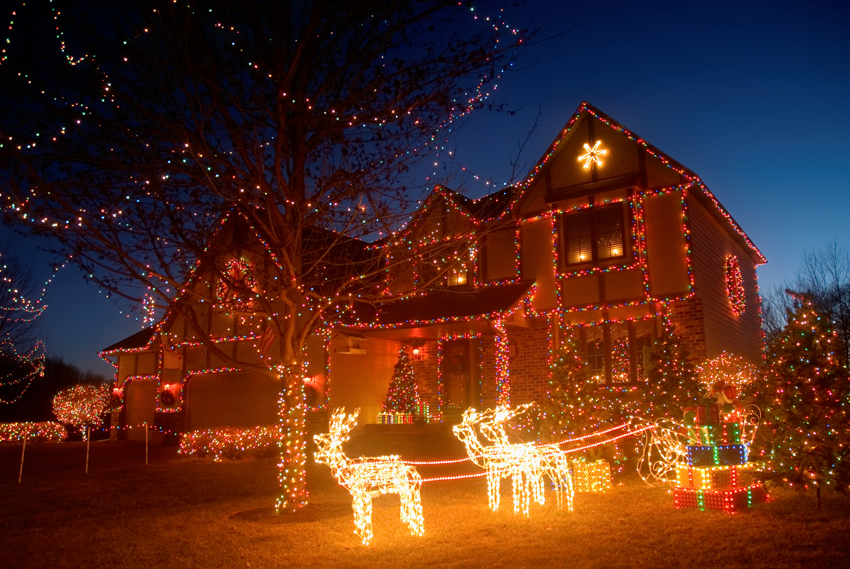 It all started more than 30 years ago when a neighborhood neighbor, Lucy Spata, decided to decorate her home and garden with end-to-end Christmas lights, without leaving a gap undecored. That act, which was criticized during the early years, has ended up being one of The Most Expected Attractions of Christmas in New York. Visits are not only made by tourists, New Yorkers already have it as well as one more tradition.
Of course, even today, Lucy's house is among the most visited. In addition, in the rest of Dyker Heights you will find everything imaginable in Christmas decoration: lights of all shapes, sizes and colors, nutcrackers, soldiers, angels and, of course, Santa figures, some of the sizes that will leave you with your mouth open.
See the Rockefeller Center Christmas tree
We are before what may be the most famous Christmas tree in the world. The installation takes place in early November, but until the Wednesday following Thanksgiving there is no ignition. It is the only tree in New York that is illuminated 24 hours a day and can be seen until early January. A great plan for a Christmas Day in New York. About half a million people visit him every day.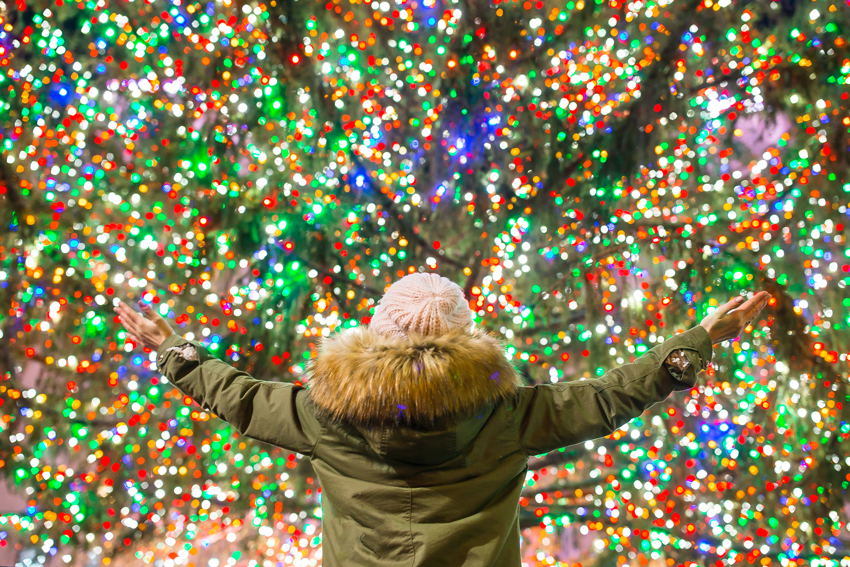 This tree is the best known, but we can enjoy other Christmas trees scattered throughout New York. Each will have a particularity that distinguishes it from others. For example, that of the Natural History Museum whose decoration is composed of a thousand figurines of origami; it is one of the most charismatic Christmas trees in all of New York and one of the most beloved by New Yorkers.
Ice skating at Rockefeller Center
Who hasn't dreamed of ice skating in downtown Manhattan? If you are one of those people, do not hesitate and live with us Christmas in New York. Of course, there are many more ice rinks in the city, but this is one of the most famous. We can also go skating in Central Park or Bryant Park. The latter is the only free ice skating rink in the city.
Rockefeller Center's rates last year were $25 for the track and $13 for skate rental. On vacation the price goes up to $28 and goes up to $33 on high season dates.
The Rockettes Radio City Christmas Spectacular
The Rockettes are a dance company founded in 1925. They stand out both for their fabulous choreographies and for the use of peculiar kicks at eye level, to the beat, which they always include in their numbers. Its creator, choreographer Russell Market, was inspired by an English dance company characterized by the timing and precision of its dancers.
One of their most applauded performances is the one they perform over Christmas, seven days a week for almost a century: Radio City Christmas Spectacular. It's one of america's most-watched shows and a Christmas classic in New York. They also perform annually at Macy's Thanksgiving Parade and Christmas Tree Ignition Ceremony.
The Radio City Music Hall theatre is also a show in itself. Located in Rockefeller Center, it is considered to be the most important theater in the entire country. Opened in 1932, it reflects all the splendor of the Art Deco era.
Christmas Markets in New York
From the most modern and urbanite to the most classic and endearing. In the Christmas markets we can find handcrafted products, clothing, Christmas decoration, as well as many food stalls, hot drinks and a movie atmosphere. We want to see them all!
I WANT TO SEE THE CHRISTMAS
MARKETS IN NEW YORK
In them we can find handcrafted products, clothes, Christmas decoration, as well as many food stalls, hot drinks and a movie atmosphere. We want to see them all!
Winter Village Bryant Park
Bryant Park is located next to the National Library, between Fifth and Sixth Avenue. It is surrounded by skyscrapers and has tables and chairs through the enclosure where we can sit and eat like good New Yorkers.
Since the end of October, it has hosted one of New York's most famous Christmas markets: the Winter Village. We can visit from Monday to Sunday until 20:00 (weekends open at 10:00, one hour before weekdays).
It takes up a large part fromBryant Park and we can find the most original gifts for Christmas (jewelry, illustrations, clothes and decoration), in addition they have many food and hot cider to face the cold. The atmosphere in Bryant Park at this time cannot be more picturesque: the little tends, the carousel, the food stalls, the Christmas tree... and Bryant Park's The Rink, one of New York's most beautiful ice rinks and also the only free ice rink.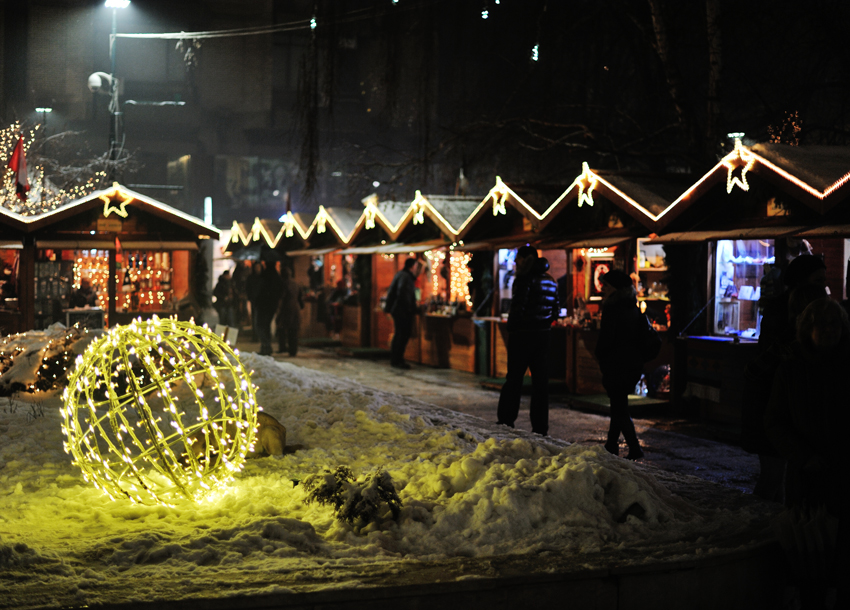 Columbus Circle Holiday Market
Located at the gates of Central Park, Columbus Circle stands out in addition to its location for the variety of items that can be found in its more than 150 little shops; from Christmas ornaments to wooden games, plus hot chocolate little ones so you can cope with the cold and walk through it for sure. It is one of the most idyllic and picturesque markets in New York
The Columbus Circle is located on the corner of 59th Street and we can enjoy it from early December (they have not yet published the date) until Christmas Eve from 10:00 to 20:00 Monday through Saturday and Sunday from 10:00 to 19:00.
Brooklyn Flea Smorgasburg Holiday Market
This flea market is open all year round, but in winter it is held inside a building, making it one of the perfect markets to enjoy the coldest days. In it we can find about 200 stalls between vintage items (clothes and furniture), antiques, jewelry and food. It is one of the most interesting and authentic markets in all of New York.
It's located in the Williamsburg neighborhood, you'll sound a lot if you've seen the Netflix series Unorthodox, as it's the neighborhood where the protagonist lives until she escapes to Berlin.
Brooklyn Flea Smorgasburg Holiday Market is located on the eighth floor of 25 Kent Avenue and is open only Saturdays and Sundays from 10:00 to 18:00.
And, of course, the year-round activities from Take me to New York
Our guided trips to New York involve a number of must-have activities on your visit to New York. The price of tickets to the activities is indicated in each of them, if it is not indicated is that it is a free activity.
Remember that on our trips you will be accompanied at all times by our bilingual guides, with which you will meet at the same airport, before taking the flight to New York.
I want to travel with you to New York in December 2020, but I need more information
Well, we give you 7 reasons to trust us and we solve your most frequent doubts. In addition, we explain in detail what the price of the trip includes and what your trip will be like with us.
Do you have more questions? Would you rather talk to us? We will be happy to assist you in the way you prefer: